Cement Rooftop Solar energy systems
Cement Rooftop Solar energy systems
Starwin

China

14days

30MW per month
Flat cement roof top triangle solar racks
we are one of solar racking system manufacturers in China
Flat rooftop mounting system is engineered for the maximum flexibility possible in designing for the commercial and residential solar roof system. It is applicable to large-scale flat roof module installation. The special design also makes the installation easy and fast.
It can accommodate and modules, both in landscape and portrait orientation.
Unique module fixing method makes installation fast, secure and economical.
Protect the original waterproof layer, no need waterproofing work;
Suit any specifications crystalline silicon and part thin film components;
The adjustable weight-bearing box is installed on the underframe, there are cement block and stones placed on;
Design installation degree according to actual requirement
Starwin Solar is one of the solar mounting system manufacturers in China
Flat cement roof top ballasted triangle solar racks
we are one of solar racking system manufacturers in Xiamen, China
Rooftop solarmounting systems
material : aluminum
treatment: Anodized
wind load: 40m/s
snow load: 14KM /m2
Features of PV Ballast mounting systems
1, high corrosion resistance
2, install easily
3,safety: there's no damage to the roof .
Rooftop Solar racks Adjustable Tilt Mount hihgly engineered solution which can effectively reduce the influence of wind on the photovotaic system.
Ballasted Roof Solar Racking Systems can secure the array without damaging the flat roof .Solar mounting solutions is compatible with the usual framed modules and typically does not require roof penetrations.
Flat Rooftop Solar Panel Rack Plans designed according to the actual installation angle and no need to break the waterproof layer.
Why choose Starwin Solar racks ?
1) As more than 10 years of experiences in producing and designing for rooftop solar PV mounting systems, we mainly offer quality solar roof racking systems and ground racking systems.
2) With the demand of changing market, our professional R&D department always improves and designs the new solar mounting system for the different requrements.
3) stable product quality , supply, the good faith management
advantages

1) easy installation: no-welding just fastening with bolts;

2) competitive price: we have our own aluminum factory and production can save our cost, then also save for you;
3) protecting your market: the unique patented design can help you stay above the competition;

4) reliable quality: the structure is designed according to international standards
PV triangle solar rooftop mounting projects:
FAQ of rooftop solar Racks
How much space is required on my rooftop for 1 kW of rooftop solar rack?
1 kW of solar power plant requires approximately 100 sqft or 10 sqm.
Can I run all my loads entirely on solar power from my rooftop?
While in select cases a rooftop solar power plant could power most or all your loads, in most cases, it will be difficult. Depending on the type of building (residential, commercial, industrial) and the extent of rooftop available, solar from your rooftop could power anywhere between 20-50% of your total load requirements.
If solar power from rooftop cannot supply all my load requirements, how can I make the best use of rooftop solar?
One of the best ways to use rooftop solar power plants is to use as a grid-tied rooftop solar power plant. In this case, even if your rooftop solar power plant is not able to meet all your power requirements, the deficit can be met from the grid.
concrete solar project site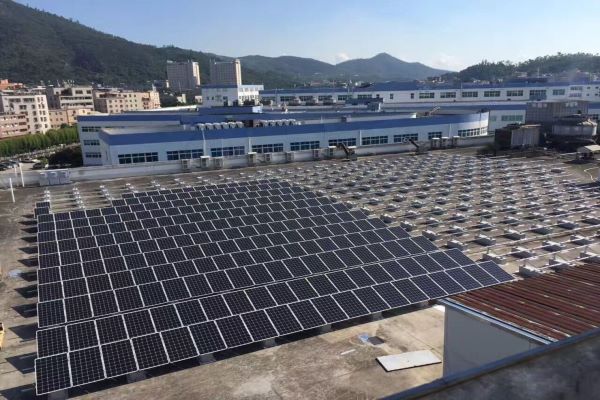 Triange solar rack system guides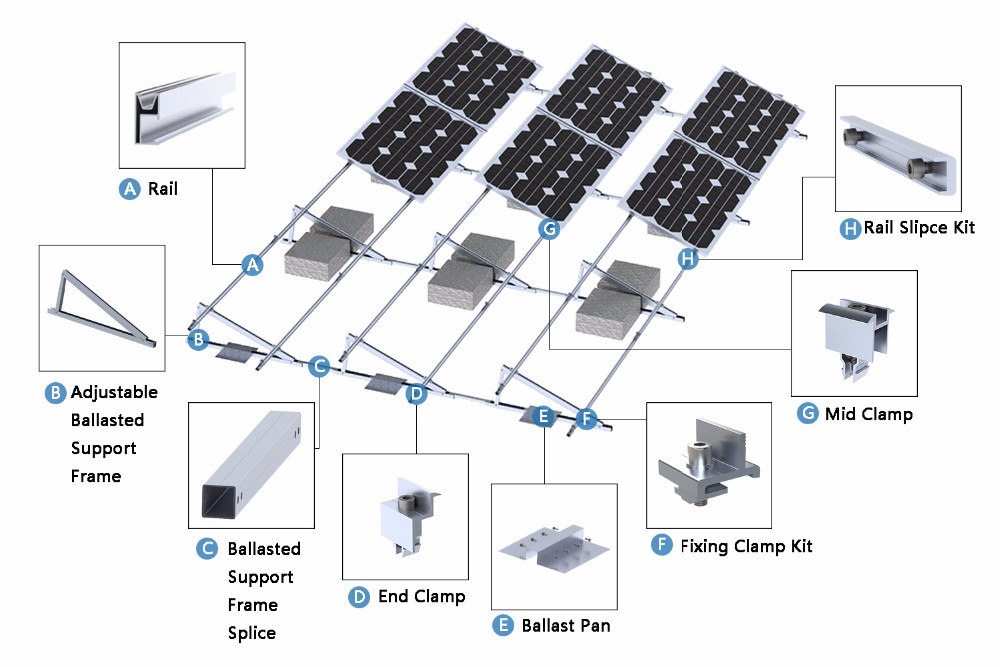 Details of solar rack structure instructions as follows,
Solar Portrait Ballasted Solar Mounting Systems is coming pre-assembled tripod which ensure quick installation less labor cost. This System highlight flexibility on connecting with flat roof: Ballasted Plate,Special make concrete block,directly fix to concrete block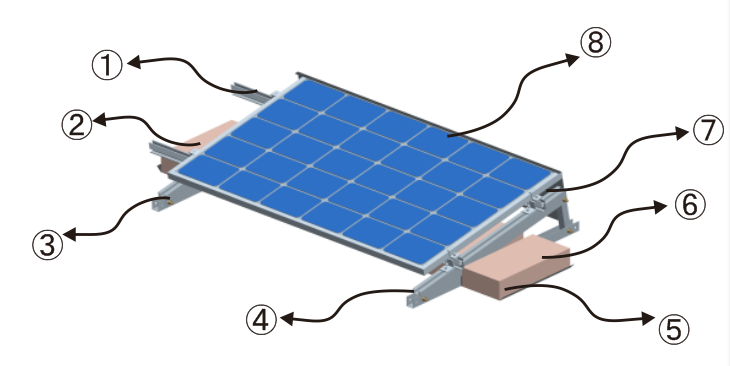 components of solar racks




Rooftop solar rack complete guides:
1.Why are solar panels mounted on sepcilally inclined rooftops?
Tilt angle is necessary . the solar rack can make the solar panels to convert more sunshine into power.

The angle your solar panels are mounted at will affect how much power they generate for you.
Generally speaking, (unless your roof is flat) the pitch of your home's roof is going to be the angle your solar panels are mounted at.
2,What if you have a flat roof?
If your roof is totally flat, then I strongly recommend mounting the solar panels at an angle of at least 10°. This is really important because it will allow any rain to run off the modules.
If the rainwater pools on the surface of the solar panel, it is more likely to eventually get through the panels' seals and into the solar cells themselves. If this happens it is game over for the panel as you will get an earth fault and need to replace the module. Many panels have a warranty condition stipulating they must be mounted at at least 10° from horizontal, so failure to do could void your warranty.
Don't listen to anyone that tells you to have the solar panels horizontal and just add a panel or two to make up for lost efficiency. Horizontal panels are asking for trouble down the line. They will also get a lot dirtier because they will have very little ability to self-clean through rain, so you'll need to manually clean them more often; which is time consuming – and time is money. Added to that, getting up and working on a roof is a safety risk.
For these reasons, if you have a flat roof, most good installers will add the option of a tilt frame to their quote.
3.what's the difference between a ground mount and rooftop solar rack?
Roof mounts are less expensive because they use your existing roof structure as a foundation. They also take up less room on your property. Ground mounts take up more space, but they're easier to access for installation and repair. They also give you greater control over the orientation of your array to maximize production.
Roof mount systems affix to brackets on your roof, while ground mount systems are built into a foundation at ground level or dig into the ground by ground screws.
Starwin solar is the provider of solar mounting system in China. Any projects are highly appreciated!