N Type Ground Solar Mounting System
N Type Ground Solar Mounting System
Starwin

China

14days

30MW per month
Starwin solar is provider of solar mounting stystem in China
Ground solar mount bracket systems are typically assembled from anodized aluminum, steel or aluminum and steel components, usually assembled from hot-dip galvanized or stainless steel hardware.
Ground Solar PV Mounting Structures highly engineered solution which can effectively reduce the influence of wind on the photovoltaic system, HDG surface treatment, service life is more than 25 years.
Ground Solar Panel Pile Systems with features :convenient installation, low cost ,suitable for large-scale Photovoltaic Power Station Constructure.
Starwin solar is provider of solar mounting stystem in China
Ground-mounted solar systems essentially all work the same—systems anchor to the ground and hold a large number of stacked panels, often two but sometimes three or four panels high. Two rails usually support each panel, whether oriented in landscape or portrait. The anchoring to the ground is the tough part of these installations, as there are many different types of foundations.
If the soil is clear of debris, steel beams are driven into the ground and the racking system is attached to the beams. If ground conditions are not suited for smoothly driven beams, anchor systems may be used—helical piles, ground screws. These can take more time to install as they have to power through boulders and other large debris.
Ground-mounted systems don't always have to penetrate into the earth. Capped landfills and other brownfields are ideal for solar arrays, as they are underused land areas, but their temperamental ground conditions cannot be disturbed. Arrays can be ballasted on the ground just as they are on flat roofs. Concrete blocks hold a system in place, and if ground conditions can hold the weight of a concrete truck, cast-in-place blocks may be an easier option for installers.
Product Description
Installation Site: open ground solar power plant
Inclination Angle: customized design / according to local conditions to ensure maximum power output.
Wind Load: up to 60 m/s or customized
Snow Load: 1.5 KN/m2 or customized
PV Modules: any type of PV module
Module Orientation: horizontal / vertical
Materials: anodized aluminum 6005-T5
Warranty: 20 years warranty; 25 years service life
Features& Benefits
1. Adopting high strength aluminum alloy 6005-T5 and stainless steel 304 material
2. Some components are pre-assembled in factory, so that to reduce the labor cost and installation time on site
3. High anti-corrosion
4. Making customized as request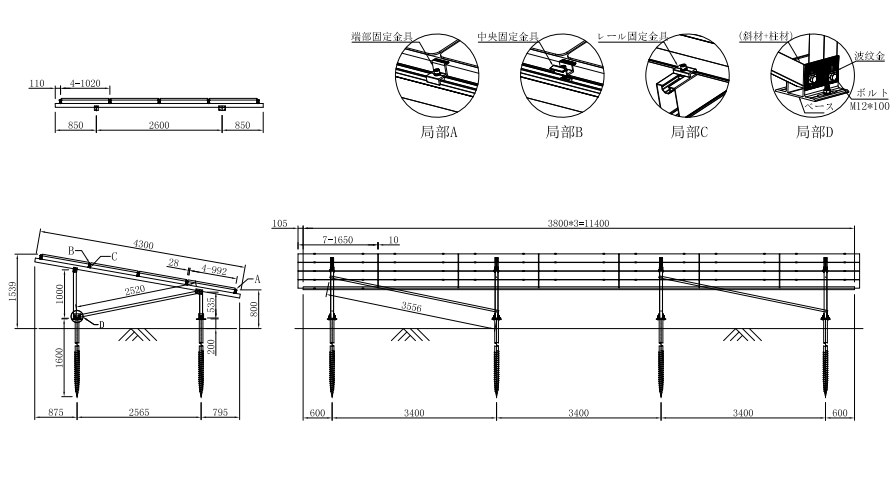 Neccessary inoformation of project to design and quote as follows,
1. Panel dimension: length, width and thickness?
2. Tilt angle?
3. Panel layout? How many panels in a column, how many panels in a row? How many solar panels in total?
4. Max wind speed on project site?
5. Max snow load on project site?
6. Ground clearance: the height from the bottom of solar panel to the ground?
7. Foundation: ground screw pile foundation or concrete foundation?